Looking for a reliable offsite backup that you can manage yourself?
A Reliable and Intuitive Backup Software That You Have Complete Control Over
Our Self-Service Backup is powered by Acronis Cyber Protect and our own UK data centre storage. This is a low-cost, easy-to-use, unmanaged service where the only thing you pay for is the amount of storage that you use. All licenses are included!
This is an unmanaged service so you will need to be confident in your IT skills (we have guides to help you on your way though). If you are looking for a managed backup service then click here.
If you are not sure why you need to backup your data then head over here for some reasons to backup your data.
Start Configuring Your Self-Service Backup Now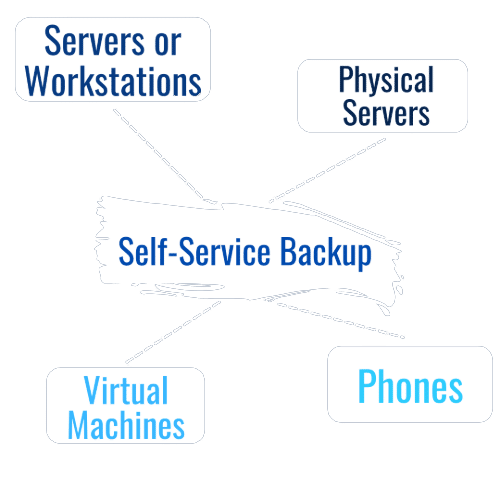 Who is Acronis Cloud Backup For?
This is for people/businesses who:
Manage your own IT

Are the IT department for a small 

business

Have a tight or limited budget
Want full control of their backups
What does Acronis Cloud Backup Cost?
The first 50GB costs 15 pence per GB
from 51-250GB costs 12 pence per GB
251GB upwards costs 10 pence per GB
One time £5.00 account setup fee.
What Can Acronis Cloud Backup Do?
Acronis Cloud Backup can back up any of the following:
Servers or Workstations
Physical Servers
Virtual Machines
Phones
Why we have chosen Acronis Cyber Protection Software:
Acronis Backup is 

s

ome of the best software 

around

The Acronis Cyber Cloud 

Is simple to use

Acronis Cyber Cloud is the name of the management portal provided by Acronis for backup management

It will work

for

 

most

 

people

and businesses

Will protect a wide range of 

devices

Acronis server backup allows you to 

protect 

Windows or Linux Server

s

Acronis 

L

inux server backup will also work on 

Linux workstations.

 

You can use 

Acronis 

to 

backup to cloud storage in our UK Data Centres

 
Start Configuring Your Self-Service Backup Now
What We Are Responsible For
We are responsible for:
Service availability

 

Storage

 

Software

 

Licensing

 
Invoicing

 

Payment collection

 

Respond to account question

s

 (not 

technical support)

 
What You Are Responsible For
You are responsible for:
Installing

 

Configuring

 

Monitoring

 

Understanding the software

 

Paying 

invoices on time

 
Testing your backups can be 

restored

 

Deciding if this is the 

right solution for your 

needs

 
See What Our Customers Have to Say About Us
To make sure your Business' data remains safe and so that you can achieve your Business' RTO/RPO, the standard advice is to follow the 3-2-1 rule when it comes to your Data and Backups.
Having 3 copies of your data is now standard practice and makes the chances of losing all your data considerably smaller.
This typically consists of:
Primary Data (Live Data you are using)
Local Copy (Onsite backup)
Offsite Copy (to ensure data recovery)
Storing data on 2 different media is a form of protection against hardware breaking.
1 of Which is Kept Offsite
Keeping at least 1 copy of your data in a different physical location is important! If there were ever an unexpected incident at a location, then you would still have a usable copy of your data elsewhere which you can use to recover from or use.
Start Configuring Your Self-Service Backup Now
Additional Paid for Services
1

-

hour ticket response for technical support

 

£120

 per hour

 

4-hour

 ticket response for technical support

 £60

 per hour

 

Resources to restore your data or servers to.

 
Self Service Acronis Cloud Backup
Self-Service Acronis Cloud Backup.
Simple to use. Setup and manage yourself.
Backup your business' Office 365 accounts and files. Then manage them easily through a single interface.
All of the benefits of having a Backup without any effort. Backup that is managed for you.

Veeam Cloud Connect
Already using Veeam Backup, just need offsite storage? Easily connect to our Data Centre.
Easily provide Cloud Backup Services to your own clients by using our infrastructure and expertise.