Veeam Cloud Connect Repository
 Offsite Storage for your Veeam Backup and Replication Data in our UK data centres

If You Are Already Using Veeam to Protect Your Data Then it Makes Sense to Have an Offsite Copy. Take your Veeam Backup to the Cloud with our Online Storage.
Veeam Cloud Connect Repositories.   Simple Offsite Backup. 
Protection from local disasters affecting a site such as
Allows additional options for recovery destinations
Can be part of a wider Disaster Recovery or Business Continuity plan
Cost-effective use of resources by building on existing investment in Veeam
Compliance by having data securely offsite
Allows you to achieve your company SLAs for RPO / RTO
Backup recommendations say that for the best data protection you should keep three copies of data:
First:           Stored on original media
Second:     Stored on additional media
Third          Stored at a separate site
Cloud Connect is the easiest way to get Veeam backup data to another site.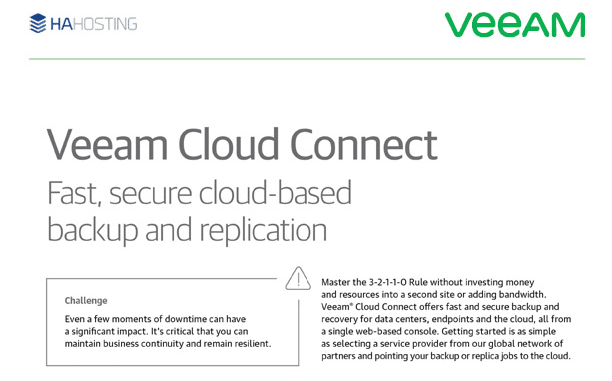 Veeam Cloud Connect Guide
Veeam Cloud Connect allows you to duplicate your backup files, data and virtual servers to another location. We provide scalable storage for your Veeam data in our Sheffield data center and also to partner data centres.
All data is stored in the UK on equipment that belongs to us. You can then use these this backup data to restore from or for Disaster Recovery, using our DRAS "disaster recovery as a service".
Remove the cost and complexity of managing a second storage and compute infrastructure.
Continue to use your existing Veeam console for the centralised management of your data.
All your Veeam backup data, no matter what type is completely protected and available for recovery.
Just point your backup or replica jobs to one of our Veeam Cloud Repositories and with a few clicks and you are ready to go.
Your data is always encrypted, ensuring your Backups are as safe and confidential as they would be on your own off-site storage location.
Our storage is built for the long term using HP hardware and Ceph. 
Ceph (pronounced /ˈsɛf/) is an open-source software-defined storage platform that implements object storage on a single distributed computer cluster and provides 3-in-1 interfaces for object-, block- and file-level storage.
Veeam Cloud Connect Pricing
from £17.50 / TB
per Month
VCC Licenses May Be Required

Select and pay for the storage you need

0.5 TB storage increments
Veeam Cloud Connect Providers
HA Hosting are proud to be a Veeam Cloud Connect Provider.


See What Our Customers Have to Say About Us
About Veeam Cloud Connect
Veeam Cloud Connect Replication Allows You to Easily Keep a Copy of Your Data in Cloud Storage
Veeam Cloud Connect Backup
Easily duplicate your backup data and virtual machine replicas to our UK data centres.
Use VCC Replication to move your data offsite.
Easily create a Veeam Cloud Backup copy from your onsite data.
Veeam Offsite Replication
Veeam Replication refers to the duplication of your Virtual Servers.
Cloud Connect allows you to have this copy of your Virtual Machines at a second location.
You could also have access to the resources needed to run that Virtual Server at the off-site backup location
. Giving you access to your server even if something goes awry at your main site or data centre.
Veeam Backup to Cloud Repository
A Cloud Repository is an offsite data store where your backup or VM data can be replicated. You may need an additional license to use Veeam offsite backup.
 The Veeam Agent that runs backup jobs also manages moving data to the data repository.
Get the best cloud storage for Veeam backup and replication.
Our Veeam Cloud Connect pricing starts with just 1TB of data. The more data you need and the longer you commit, the cheaper our VCC pricing gets.
Do I Need a Separate License?
Your Veeam Backup and Replication license may already include a cloud connect license.
See Veeam Cloud Connect Pricing
Have a question about Veeam offsite backup or how to keep you VM replicas on the cloud, just ask us.
Glossary
Data and Metadata
Data is the information itself where as Metadata is information about the data such as size, type, creation time etc.
GUID
Globally Unique Identifier, a refererence unique to the item used by computer systems to keep track of items
Object storage or object based storage
Manages storage as objects as opposed to files and folders or data blocks within sectors. Object storage includes the data. metadata and a GUID (Globally Unique Identifier)
DRaaS
Disaster Recovery as a Service, a complete service that protects data and makes it availble to use when it is required.DRaas is available with several options of software and hardware plans.
Backup
Also refered to as a Data Backup is a task that creates a backup copy of the data, which are added backup files, which can be used to restore the original data.
They can be, run manually, scheduled once or at regular intervals.
Cloud Gateways
We use cloud gateway appliances that act as communication points, routing commands and traffic between the your Veeam backup server and our Veeam infrastructure.
Virtual Machines
A virtual machine or VM is the virtualization/emulation of a computer system. Virtual machines are based on computer architectures and provide functionality of a physical computer that runs as software.
Cloud Computing or Cloud Service
Cloud computing is the on-demand availability of computer system resources, especially data storage (cloud storage) and computing power, without direct active management by the user. Cloud computing relies on sharing of resources which can help in reducing capital expenses.
Hybrid Cloud
Using a combination of a public cloud and a private infrastrucuture environment for virtualisation is referred to as Hybrid Cloud. The use of on premises resources is referred to as private cloud and anything that can be bought as a service is public cloud. Using a combination can be beneficial giving the best of both solutions.
Backup Repository
A backup repository is data storage made available to a backup job, they can be at different locations and for specific backup software. VCC connects you to our backup storage for your exsiting Veeam backup jobs.
VM replicas
A virtual machine exists as a single file, when you back that file up and keep a copy in a remote location. If you have compute resources available you can run that VM at the second location. The combination of offsite data storage and compute resources is referred to as a VM Replica to distinguish from a plain backup.
Offsite backup
Any solution that protects your data and keeps a copy in a secondf location. This used to be accomplished by having phycial tapes collected each day and stored in a secure remote location. This days with the speed of network connectivity and the pervasiveness of the internet offsite is much easier and quicker.