Data Protection for Microsoft 365
Microsoft Recommend That You Backup Your Content and Data in 365
How would it feel if you could not access any of your Microsoft 365 Office data?
Microsoft 365 includes Email, SharePoint, OneDrive and Teams.
How long could you afford to wait, how long will your boss/client wait?
You don't know how long it will be until you get access back.
What would the impact be if you didn't get to your data for a day, a week, forever?
Consider the effect on both you and your business.
Things That Could Stop You From Working:
Accidental deletion or change

​

A Malicious or departing employee

Ransomware, Viruses or Malware

Legal and compliance requirements
Hybrid deployment and migrations
Backup Your Microsoft Office 365 Accounts Now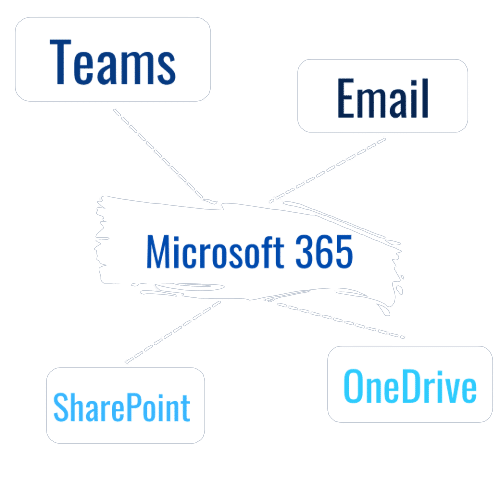 What Does Microsoft 365 Backup Include?
Microsoft 365 services that are included in the backup are:
365 Email
Teams
OneDrive
SharePoint
This means that you have access to all of your Microsoft Office 365 Data at all times.No matter what happens.
Choose a Package Based on How Many Microsoft 365 Users You Have
As far as backing up your Microsoft 365 data goes, we look after everything.
You will receive regular reports
If you need to recover your data contact us through our Support portal, raise a support case and we will assist you.
Depending on which product you have, we will work to your recovery SLA - to ensure you have access to your Microsoft 365 data.
Smaller companies
Just pay for the data that you backup, with no additional costs.
Powered by Acronis
Protects Microsoft 365

Email
Teams
Onedrive
SharePoint

No contracts or long term commitment
Data stored in Sheffield UK
Data backed up daily
Support through the HA Hosting portal
Pricing
The first 50GB costs 15 pence per GB
51-250GB costs 12 pence per GB
251GB upwards costs 10 pence per GB
Prices are per user per month.
Minimum charge 10Gb or £1.50
Billed monthly in arrears
Payments collected by Direct Debit
£5.00 one time setup fee
10+ Microsoft 365 users
Powered by Veeam Backup for Microsoft 365
Schedule backup from 5 minutes upwards
Unlimited data
Minimum 10 users
Data in our UK Data Centre
Annual contract
Monthly Payments collected by Direct Debit
Telephone and Ticket Support
Access via the management portal
Pricing
Base package including first 10 Seats £25.00
Then
up to 25 seats £2.50 each
up to 50 seats £2.25 each
up to 100 seats £2.00 each
Prices are per user per month.
If you need to backup more than 100 users then get in touch, for the best solution.
A seat is includes a users Mail, Teams, OneDrive and SharePoint.
Backup Your Microsoft Office 365 Accounts Now
"I Use Microsoft Office 365 - Does This Affect Me?"
Microsoft doesn't guarantee to keep your data safe.
You're Responsible for Your Companies Data
"We strive to keep the Services up and running; however, all online services suffer occasional disruptions and outages. In the event of an outage or disruption to the Service, you may temporarily not be able to retrieve Your Content. We recommend that you regularly backup Your Content and Data that you store on the Services or store using Third-Party Apps and Services." - Microsoft Service Agreement
With a backup of your data, you could retrieve the information your business needs to continue to function within the timescales the business has set.
Recovery Point Objectives (When you can recover to)

​
Recovery Time Objectives (How long a restore takes)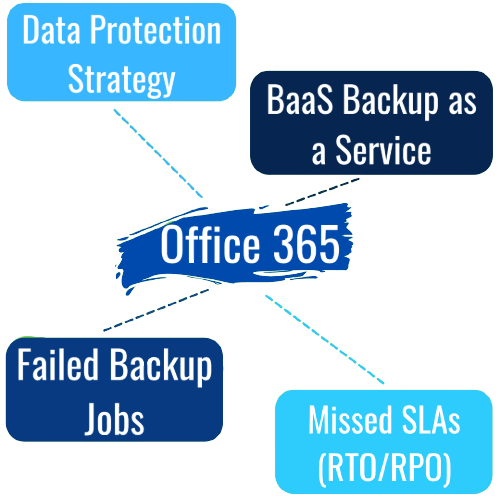 See What Our Customers Have to Say About Us
To make sure your Business' data remains safe and so that you can achieve your Business' RTO/RPO, the standard advice is to follow the 3-2-1 rule when it comes to your Data and Backups.
Having 3 copies of your Microsoft 365 data is now standard practice and makes the chances of losing all your data considerably smaller. This typically consists of:
Primary Data (Live Data you are using)

Local Copy (Microsoft 365 have this covered)

Offsite Copy (to ensure recovery)
Storing data on 2 different media is a form of protection against hardware breaking. With Microsoft 365 this is out of your hands, however, we can be sure that Microsoft 365 Data is spread across many disks and servers.
1 of Which is Kept Offsite
Keeping at least 1 copy of your Microsoft 365 data in a different physical location is important! If there were ever an unexpected incident in a Microsoft 365 data centre, then you would still have a usable copy of your data elsewhere which you can use to recover use or from.
Backup Your Microsoft Office 365 Accounts Now
How Can I Be Confident That My Data is Protected?
Performing a Backup is of no Use if You Can't Restore From it.
We do everything possible to make sure that your backup has worked and that you have current data available for recovery.
Regular and accurate reporting

​

based on your backup schedule
Automated Emails letting

highlighting any issues or confirming a successful backup
Be certain you can achieve recovery goals
Perform test restores with your data

​

Recovery Point Objectives (When you can recover to)

Proof that you can meet: Recovery Time Objectives (How long a restore takes)​
Backup Your Microsoft Office 365 Accounts Now
Self Service Acronis Cloud Backup
Self-Service Acronis Cloud Backup.
Simple to use. Setup and manage yourself.
Backup your business' Office 365 accounts and files. Then manage them easily through a single interface.
All of the benefits of having a Backup without any effort. Backup that is managed for you.

Veeam Cloud Connect
Already using Veeam Backup, just need offsite storage? Easily connect to our Data Centre.
Easily provide Cloud Backup Services to your own clients by using our infrastructure and expertise.