Server Colocation Hosting That is Reliable & Secure
We provide physical space and take care of your server.
Colocation can be the most powerful form of hosting as you choose and own the server, so it can be as high-performance as you want.
With colocation, you retain control over the design and usage of the equipment, but daily management of the Data Centre facilities is fulfilled by us, the colocation provider.
With our server colocation services, we provide you with internet access, power, cooling, physical security, and space for your server.
You are responsible for hardware and software upgrades or changes, but we are here to help if required.
All of this with a minimum of cost and complexity.
We do this for a wide range of customers, from small companies to SMEs usually, but not always with a background in technology.
Server Colocation
1U- 4U Rack Servers, Towers, Mac Mini, Low Power PCs

Only Pay for the Power You Use 32p / kWh

Routed Block of IP Addresses

Unlimited Internet Connection

Easy Access During Office Hours

Emergency Out of Hours Access**

Secure Colocation Data Centre

Access Control, CCTV, Alarms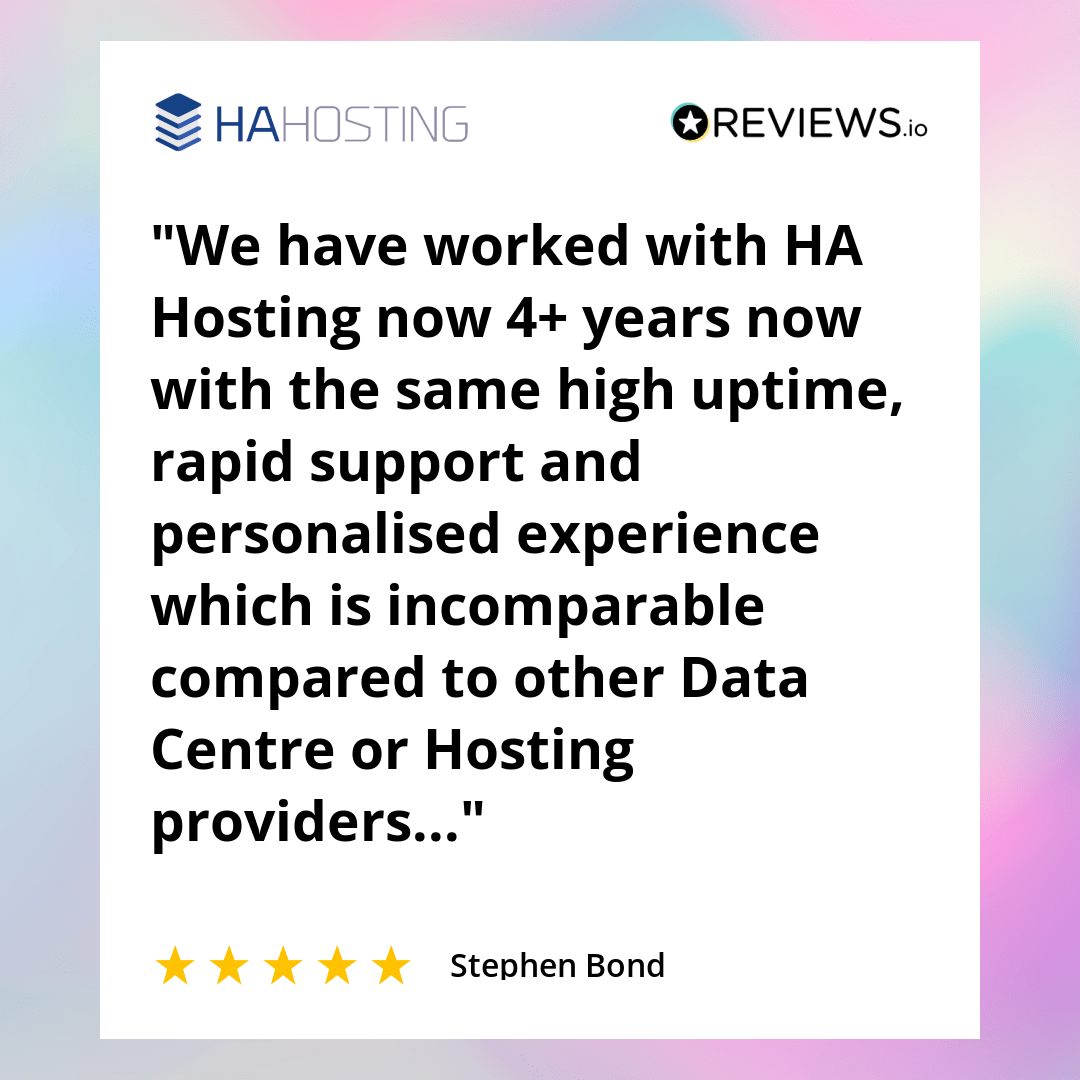 About HA Hosting
UK Company based in Sheffield
Established in 2008 with our own Sheffield Data Centre in 2009.
ISO27001 certified since 2016 and is subject to annual external audits to keep us in top form.
Members of RIPE with our own IP address ranges.
Nominet Accredited Channel Partner, which is the top level of partnership.
Our Server Colocation SLA (Service Level Agreement)
We aim for at least 99.9% Network & Power Availability.    
How Do We Monitor This? 
We use an external service to monitor our availability this is available on our Status Page.
Ordering Server Colocation is Easy.
3 Simple Steps

& We'll Do The Rest
3 - Get Your Server to Us
We'll then rack your server and test that everything is working & ready to use.
Server Colocation Service Details 
We accept a wide range of server types including:
1U - 4U Rack Servers
Tower Servers that have rails
Mac Mini or Mini PC
We will accept servers that are suitable for being racked or some low-power computers like a Mac Mini or mini PCs that are less than 1U and can sit on a shelf. Please email [email protected] with details, If you are not sure please do reach out to us.
Power Pay As You Go 
Pay as you go for the power that you use, to keep prices down for the most efficient environmentally friendly servers.
Remote Reboot
Switch the power to your server on or off from our client control panel, no need to visit or log a ticket.
IPv4 Addresses
1 IPv4 address as standard, more are available.
Network Ports
Single network port as standard, more are available. Good for out-of-band management (iLO, iDrac, or IPMI).
Unlimited Bandwidth
Unlimited access to our shared internet, so no extra bandwidth charges.
Support
Includes Remote Hands, for investigating or fixing server problems. A daily 15-minute allowance.
Data Centre Access
Access to your server can easily be arranged during normal office hours.
If you require out-of-hours access to your server, this is always available for a low hourly rate.
Add a Firewall Switch Or Router
You can easily add a 1u Low Power Network Device, such as a firewall, switch, or router.
A Low Power Device will get its own UK power socket, but it does not get its own Network Port.
You can add a low power device for £20 per month.
Save Money on Colocation
Only Pay For The Power You Use
As you know electricity is getting more and more expensive, so we want to reward people with the most efficient servers by charging them less.
To do this we only charge you for the power that you use.
Our systems take regular readings and we work out how much to charge. You can save money by choosing an efficient server for your colocation. We have put together a list to help you.
What impacts how much power a server uses:
Age

 

Older servers are generally less efficient, so use more power. This also means they run hotter and require more cooling.

 

CPU usage

 

If a server is carrying out complex calculations it will use more CPU and therefore more power. However, a high proportion of servers are idle for a lot of the time.

 

Hard Drives

 

A server with a lot of busy hard drives will use more electricity than one with a similar amount of SSD (Solid State Drives)

 

Temperature

 

A server that is running hot will spin its fans at a higher speed and this will mean that it uses more electricity. This can be caused by missing or failed fans, poor airflow, or obstructions at the front or back.
1U Colocation Price Calculator
Use the dropdown to find out an estimate of how you could expect to pay per month, based on the chosen power usage.
Data Centre Details
Network Infrastructure
Internet connectivity is over fibre connections to London Telehouse North and Lumen in Manchester.
As members of RIPE, we have our own IP address ranges and are able to manage traffic routing using BGP.
Power
Backup Generators come online automatically If the power from the National Grid goes off for more than a few seconds.
Uninterruptible Power Supplies (UPS) provide clean continuous power to servers and network equipment.
Second power sockets come from a separate UPS and power phase to provide AB power.
UPS are designed to cover the transfer time from Grid to Generator.
Security
Two Factor Access Control is required to enter the data centre. An electronic key fob and a PIN are required.
Internal and External CCTV protects the data centre including entrances and server racks.
Various Alarm systems protect the DC including Smoke and Fire and an intruder alarm linked to the Access control system.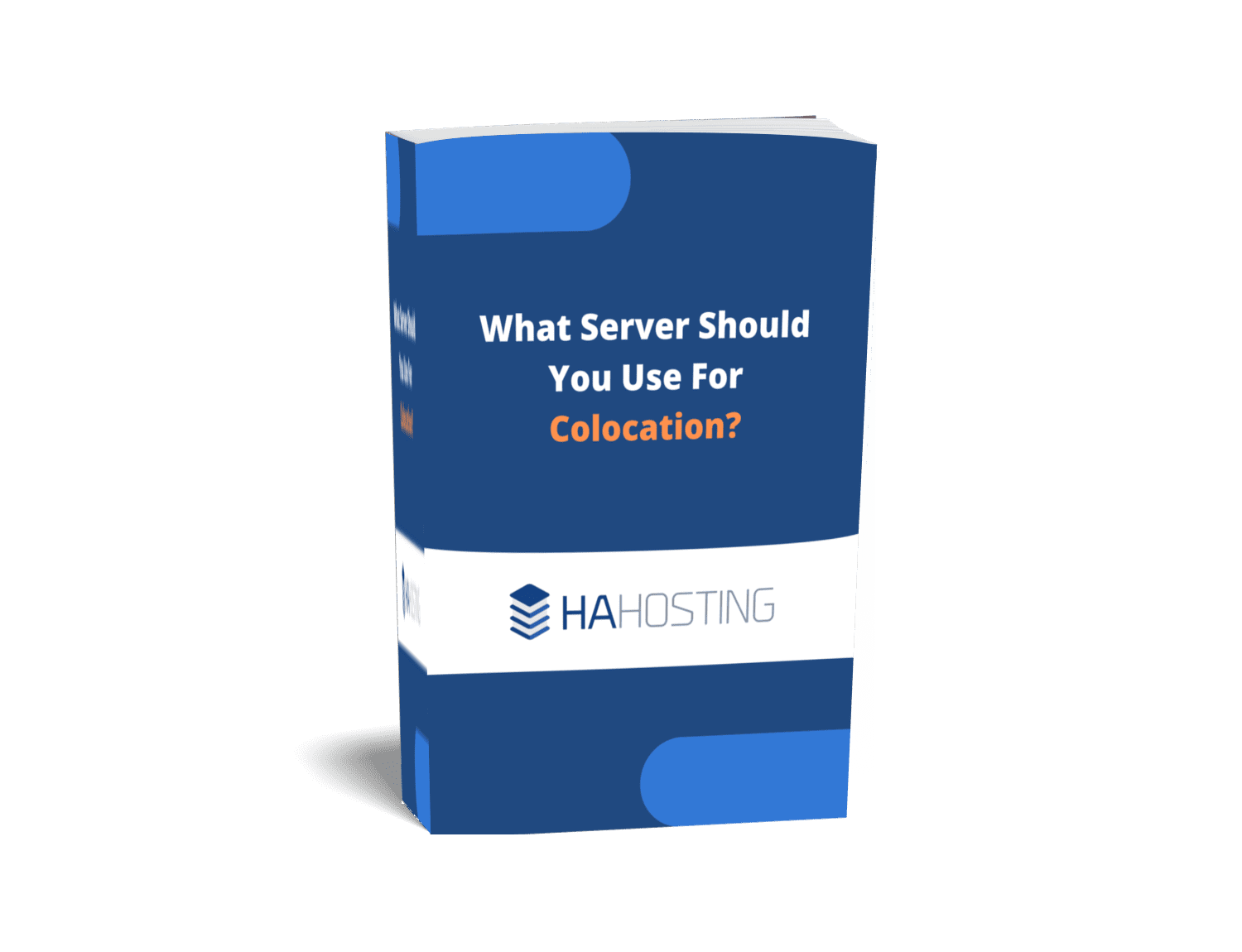 To
help you easily manage your server colocation you get access to
our Client Control Panel. Which
gives
you
access to
useful
information and function
ality
.
This includes:
Service Details - Basic details of your server colocation service, start and due dates, billing cycle, etc.
Manage IP Addresses - Gives you details of your IPs, network, VLAN ID, Description or label for each IP, and access to Reverse DNS entry.
Upgrade/ Downgrade - You can easily upgrade most aspects of your server colocation service, such as power, and IPs.
Reboots - Remotely reboot your server
Contracts - Review your contract.
Add Extras - Add low power device or a managed firewall to your server
Imagine Not Having to Worry About Your Server's Environment, So You Can Just Focus on Your Everyday Tasks.