Keep Your Servers Online Without The Hassle!
Have Your Power, Cooling & Network Managed For You
Being in the IT industry, you know a lot of your services, if not all of them, are at the mercy of Server Uptime.
Many things can cause downtime of a server: internet, power, and cooling being some of the big culprits.
Wouldn't it be easier if you didn't have to worry about your server? Instead, you could just focus on what you do best - providing a great service to your customers.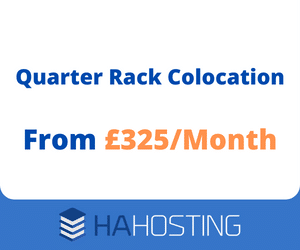 Quarter Rack Colocation
10U full length, plus 1U ¾ length

Secure Lockable Quarter Rack

Two 1Gbit/s Network Ports

100MBit/s Unlimited Internet Connection

Site to Site and Five User Dial-in VPN

UPS clean power, optional A/B feed
*Available whilst you are actively working to resolve the underlying issue.
**Out of Hours call out for server issues is chargeable.
Quarter Rack Colocation that Focuses on Reliable and Secure Hosting
We want to make Quarter Rack Colocation for you easy and reliable!
Setting up the infrastructure and redundancy to host your own servers is a pain not to mention expensive and time-consuming.
Our Quarter Rack Colocation takes the hassle away and makes use of our fast and highly resilient infrastructure.
Order online for next day setup, get online fast.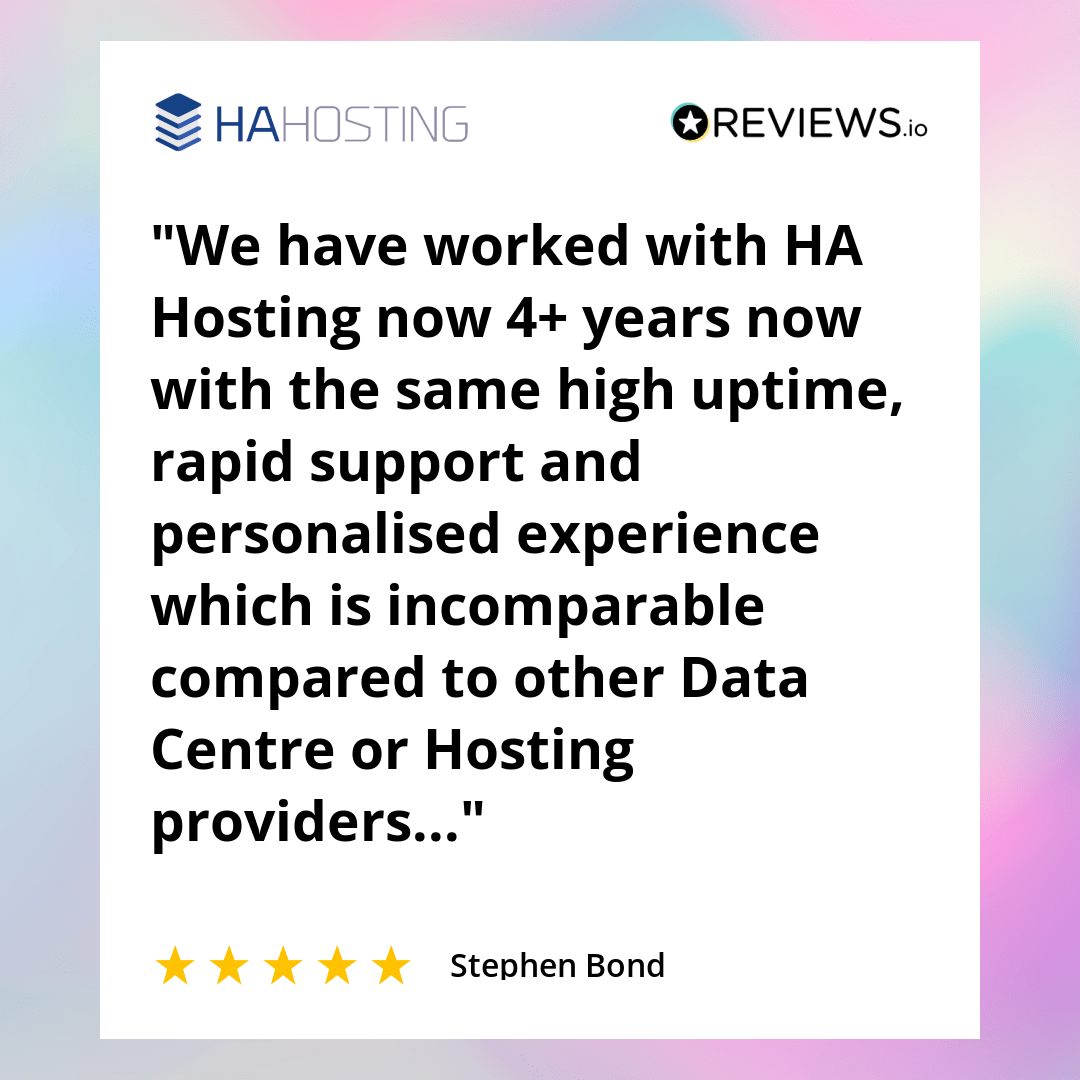 Imagine Not Having to Worry About Your Server, So You Can Focus on Providing Your Customers a Great Experience
Don't build your own Data Centre - Use ours! It's much less hassle and cheaper.
Setting up the infrastructure and redundancy to host your own servers is a pain not to mention expensive and time-consuming. 
Our Quarter Rack Colocation takes the hassle and setup costs away. 
Order online one week lead time, get online fast. 
Data Centre Features
Access Control, CCTV, Alarms

Secure Colocation Data Centre

Extensive 24/7 Data Centre Monitoring

Hot and cold aisle containment

Redundant-high performance cooling

High performance hot air extraction
Our Expertise
Our expertise means hassle-free Colocation for you. We're here to help!
Our Expertise
Why try and make your own Data Centre when you can use ours?
Easy Terms
Short 12-month contracts.                             
Easy Terms
Straightforward terms and conditions to keep things simple. 
Established 2007
We have been providing hosting for 15 years & Colocation for 14 years!
Established 2007
It's safe to say we know a thing or two about Server Colocation.
Expert Support
Our team are experts with Servers and Colocation and we are here to help!
Expert Support
Having trouble or need some support? Not a problem! We're to help!
Unlimited Bandwidth
Means there are no surprise charges at the end of the month!
Unlimited Bandwidth
Use your colocation without fear of hidden costs!
Here to Help
If you need anything, just ask. Our staff will help with any questions you have.
Here to Help
There is no question too small for us to help with! Give us a shout for help!
10U Quarter Rack Colocation
A Professional, Reliable & Secure Way to Host Your Servers.
We are Colocation Experts and we'll look after you.
Fast Synchronous Internet - Unlimited 100Mb internet access.
Power & Redundancy - Includes 3 Amps of power and any more you use is only £0.32p/kWh. Backed up by UPS and a Generator.
Access Your Servers Anytime with 24/7 Secure Access - Fully alarmed with CCTV and Access Control.
Remote Hands Included - We'll do what we can to save you a trip to the Data Centre.
If you require any further information about our Quarter Rack Colocation Hosting, just use the contact button to ask.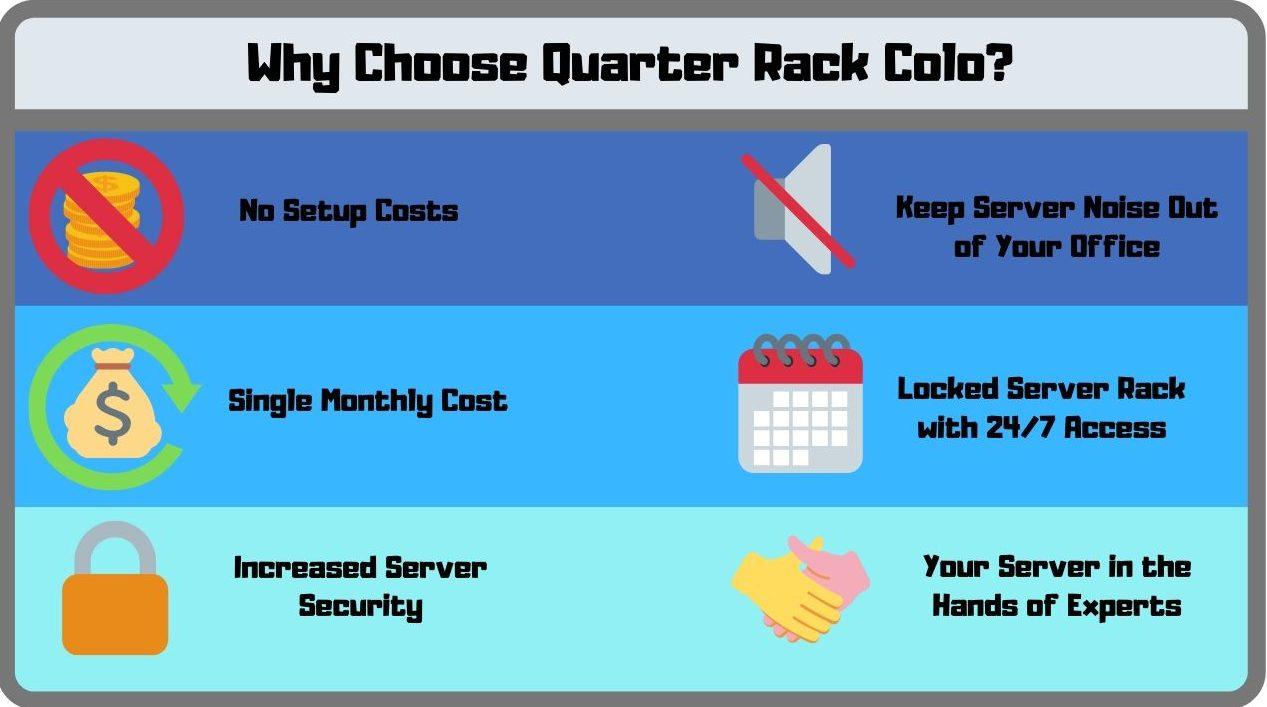 Quarter Rack Colocation Overview
 Unlimited Bandwidth & Inclusive Power Allowance  
Unlimited 100 Mbit/s bandwidth and 3 Amps of inclusive power as standard, which means you know exactly what you will pay each month.  
All for £325 per month, a low-cost way of getting your Servers online. Get an exact quote for your Rack now.
Help with network config if needed 
We are here to make things as easy as possible for you.  If you need help getting your quarter rack online, we are here for you. We realise that not everyone spends their days configuring networks so if you're unsure just ask us and we will help you get online.
One Week Lead, Call if you need Colocation quicker 
Once your order your Quarter Rack Colocation, you can use our online calendar to book your moving in date, so that well have someone on hand to offer help you, should you need it.
No setup costs 
Why pay setup costs, we don't believe in them or charge them.
So you don't have to pay them.
Easy Access to your Servers  
Not being able to access your servers when you need to is a horrible situation, when you just need to get on and resolve the problem.
That won't happen to you because as a Quarter Rack Colocation Customer you have 24/7 access your servers.
We understand how important it is to get to your servers whenever you need to.
Fast IP address allocation 
Automatic IP addresses Allocation means you can preconfigure your server and get your server online even quicker.
What Operating Systems Are Available?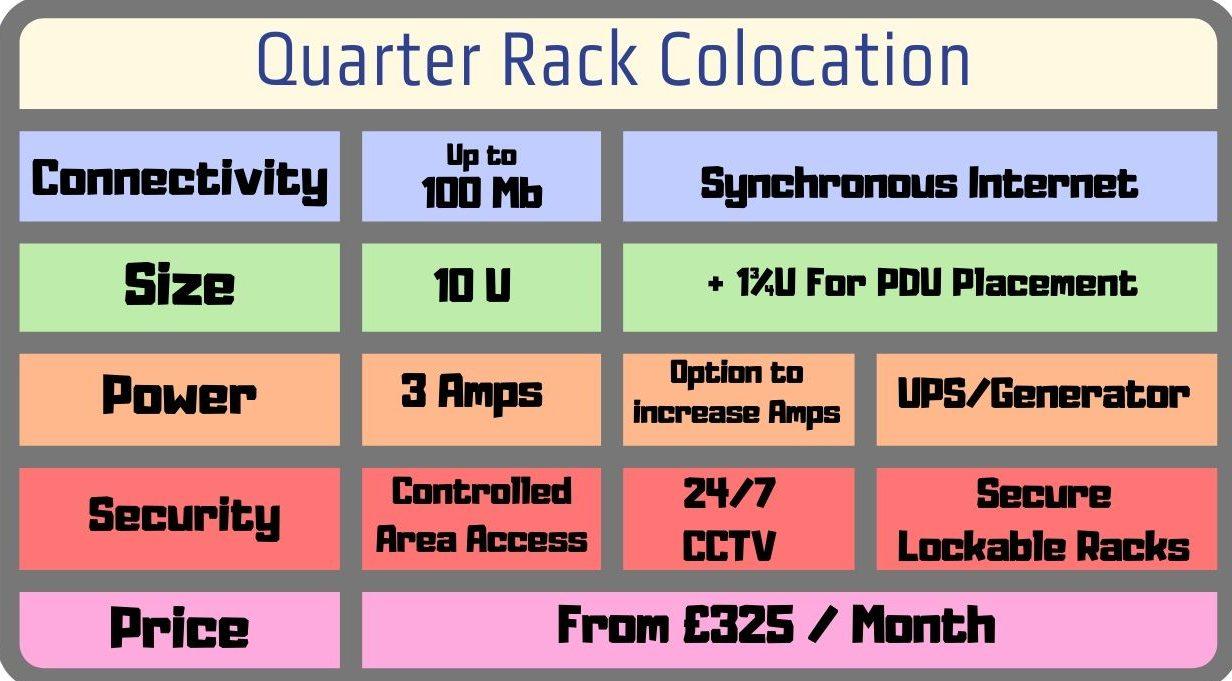 Need different Colocation specs to our standard? Not a problem.
We're Here to Help
If you require any different specs or features to the standard we offer, just let us know and we'll try to accommodate you as best as we can.
Our Colocation offers a lot of flexibility!
See What Our Customers Have to Say About Us
More Colocation Information
24/7 access to your server
Break area with power, network, tea/coffee and toilet
Emergency out of hours call out available if you are tied up elsewhere (subject to charge).
A friendly and professional service focused on helping you.
Our 10U Quarter Rack Colocation service includes:
12 Month Contract
One week Lead time
Full support to get you moved in and connected
Remote Hands support included during office hours
Office hours: Monday - Friday, 8 am - 6 pm.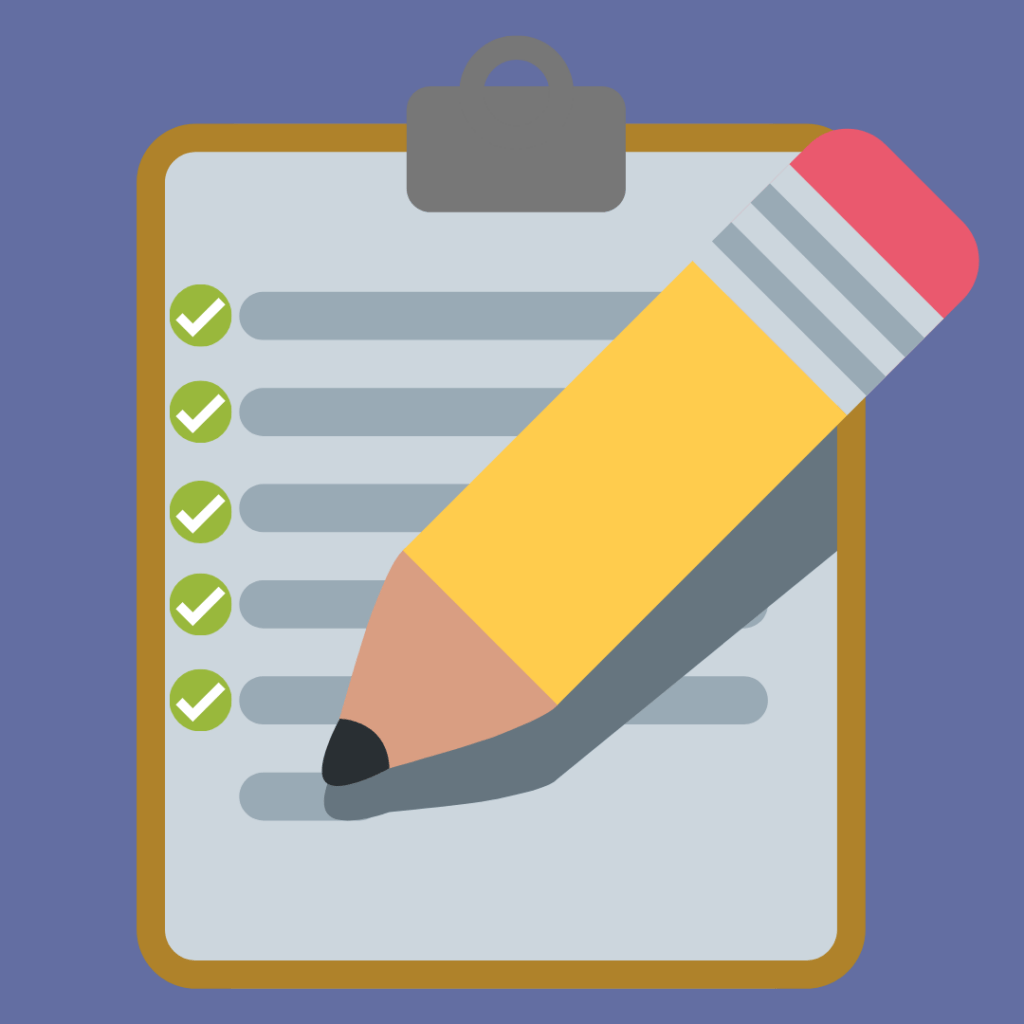 Our Sheffield Data Centre
We have our own N+1 data centre in Sheffield, not too far from Sheffield City Centre. From here we provide IT managed service providers with high quality, reasonably priced and professionally managed Colocation, Online Backup, Cloud Hosting, VPS  and SIP / VoIP services.
You can check out the specifications of our Data Centre as well as where you can find us and what else we can do for you here.
I'm ready to order my Quarter Rack