Does your business depend on its information, would you struggle if you lost access to your data?
We can protect you from data loss at hands of malware, malicious or accidental actions of staff.
When something goes wrong you need to be sure that your data can be recovered quickly.
Knowing how long would it take to recover data (RTO)
How much of that data you can recover (RPO)
Is the time or money to train staff on new software just not there?
Your IT department has enough to do to keep the business moving without the worry of backups.
Maybe you just don't have or want an IT department.
Not keen on purchasing expensive backup storage and licenses or the space to put them in?
Start saving time now, let us manage your backup
What is Included with Our Managed Backup Service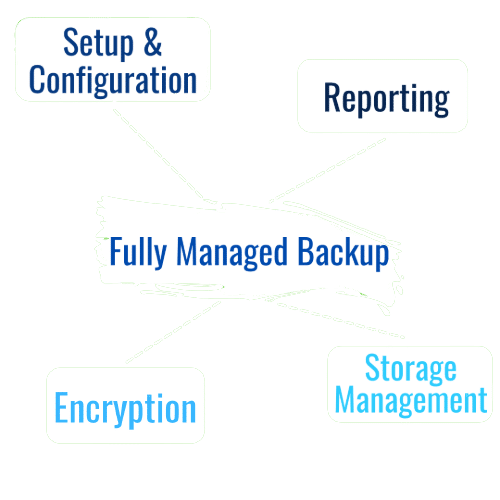 We will configure your backup to match your SLAs
Including
Best software for the job, from market-leading software vendors.
Select the Data that you wish to protect including things  Server configurations, Data, and Applications.
Frequency of backup so as to meet your Recovery Point Objectives,
Set the schedules of backup jobs
Configure Encryption levels and key management
Set Retention Periods
With our managed Backup service we look after everything for you.
Including:
check each backup for errors

resolve or escalate any errors

review and email you daily backup reports

as this is a managed service we will also check and take action on your behalf.

Manage software and storage
Run a test restore in a sandbox environment after the first month's backups
You don't have to worry about Reliability or Your Investment in either time and money.
For people who:
Have limited time
Have a limited budget

Managed your own IT

Are the IT department of a small

business

Managed the IT for others (see our partner page)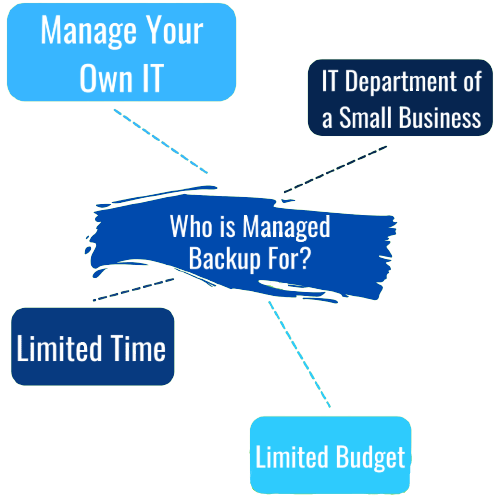 Start saving time now, let us manage your backup
Managed Backup Service Reponsibilties
Tell us what you need and when
Assist with access to devices.
Pay your invoices on time
Remotely Install and maintain the software.
Backup up your data
Ensure that backups are usable and inform you of any problems or risks
Provide daily reports and estimates for data recovery if it were required
Review daily reports, make any required account adjustments.
Investigate any errors, make recommendations to you or your IT support.
Work with you to restore data as required.
Invoice you on time.
See What Our Customers Have to Say About Us
To make sure your Business' data remains safe and so that you can achieve your Business' RTO/RPO, the standard advice is to follow the 3-2-1 rule when it comes to your Data and Backups.
Having 3 copies of your data is now standard practice and makes the chances of losing all your data considerably smaller. This typically consists of:
Primary Data (Live Data you are using)
Local Backup Copy (for speed of recovery)
Offsite Backup Copy (to ensure recovery)
Storing data on two different media types offers protection against hardware breaking or obsolete. Having an internal hard drive and external hard drive, for example, means that if one of your storage devices breaks, the other won't be affected by the same problem.
1 of Which is Kept Offsite
Keeping at least one copy of your data in a different physical location is important! If there were ever an unexpected incident at your main location, such as theft, fire or flood. Then you would still have a usable copy of your data elsewhere.
Start saving time now, let us manage your backup
Self Service Acronis Cloud Backup
Self-Service Acronis Cloud Backup.
Simple to use. Setup and manage yourself.
Backup your business' Office 365 accounts and files. Then manage them easily through a single interface.
All of the benefits of having a Backup without any effort. Backup that is managed for you.

Veeam Cloud Connect
Already using Veeam Backup, just need offsite storage? Easily connect to our Data Centre.
Easily provide Cloud Backup Services to your own clients by using our infrastructure and expertise.