What is a Data Centre?
We've talked about Colocation a lot, but we've never really dedicated anything to explaining what a Data Centre is! I think it's about time, don't you?
Put simply, a Data Centre is a data storage Facility. You pay an annual or monthly typically, and in return, your data is securely stored. This could be things like Virtual Servers, Backup and Hosting. One of the big jobs they do is Colocation Server Hosting. This is where you give your physical servers to a Data Centre who will keep it's secure and maintain its uptime.
Most Data Centres will have measures and guarantees in place so that your server(s) always get:
– Power
– Internet
– Cooling
Data Centres are specifically made for handling large amounts of servers and data storage and should have solutions in place to ensure the 3 necessities for your server are always there! This can be things like backup power in the form of UPS' (Uninterruptible Power Source), generators, multiple internet connections and regular maintenance and monitoring of Data Centre conditions.
Why Use a Data Centre?
One of the big benefits is for Colocation hosting. You don't have to pay for, build and manage the infrastructure needed to host servers. Server hosting, especially on larger scales, can be expensive and take up a lot of room!
Take a look at the infographic below that we made to show off some of the cost.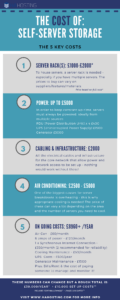 Often Colo can be a lot cheaper, particularly if you're on the smaller scale of servers. A Data Centre is made specifically for that and so can accommodate a huge number of servers, so they can split the large costs needed. This is why compared to the graphic above, it seems much cheaper!
External = Security
Another benefit that's often overlooked is that it's often more secure to store your data (or at least a copy of it) offsite.
The reason this helps make your data or servers more secure is that in the case of an incident at your office/home your data or server is still safe! This can help avoid many digital and physical disasters from happening! Physical disasters are often forgot about, but a fire, flood or theft can be devastating if all your data is affected.
Learn More About What We Do
If you want to know any more about what a Data Centre is or what we do at our Sheffield Data Centre, then you can find more information on our website. Alternatively, you can get in touch with us here or via our social media:
Facebook
LinkedIn
Twitter